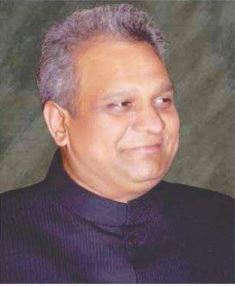 Shri Bhupeshbhai R. Patel
President RCPET
Presidents Message
Greetings!
Education is the key to the future and progress is possible only when both men and women are equally educated. The goal of education is not to increase the volume of knowledge but to provide opportunities for learners to discover their innate abilities and help them to excel in the areas of their interest.
It is with the vision of "Quality Education for Nourishing Tomorrow's IT and Management Professionals." that the R. C. Patel Education Trust established Institute of Management Research and Development at Shirpur, to provide a holistic education that will not only train young minds with knowledge and skills but also inculcate humanitarian values like compassion, courage, humility, integrity and trustworthiness in them.
As we embark on this exciting academic journey, I would like to highlight some of the key facilities, resources, and policies that are integral to our mission of fostering excellence in education:
Our campus is equipped with state-of-the-art facilities, including modern classrooms, well-equipped computer laboratories, a vast library with an extensive collection of books and digital resources, and spacious common areas for collaborative work and relaxation. We pride ourselves on creating an environment that inspires creativity and innovation.
At I.M.R.D., we recognize the importance of research in the development of knowledge and innovation. We encourage and support research activities in various disciplines. Our faculty members are actively engaged in cutting-edge research, and students have the opportunity to participate in these projects, gaining valuable hands-on experience and insights.
We are dedicated to ensuring the success and well-being of our students. Our faculty members are here to provide guidance, counseling, and resources to assist you in your academic journey. We have a range of support services, including tutoring, career counseling, and academic advising to help you achieve your academic and career goals.
We have implemented policies that prioritize the welfare and safety of our students. These policies encompass anti-discrimination measures, codes of conduct, and guidelines for academic integrity. We are committed to maintaining a safe and inclusive environment where every student can thrive.
We actively encourage collaboration, both within our campus and with external partners. We have partnerships with industry, government, and other educational institutions to provide you with unique opportunities for internships, research projects, and real-world experience.
Our commitment to excellence extends beyond the classroom, and we are dedicated to supporting your academic and personal growth. I.M.R.D. is not just a place of learning; it is a community of thinkers, innovators, and leaders.
As you embark on your academic journey with us, I encourage you to explore the myriad opportunities available, push the boundaries of knowledge, and strive for excellence in all your endeavors. We are here to support you every step of the way.
I wish you a successful and fulfilling experience at I.M.R.D.and look forward to witnessing your growth and achievements during your time here.
Warm regards...