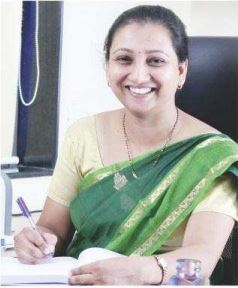 Dr. Vaishali B. Patil
Director
Directors Message
Welcome to R. C. Patel Educational Trust's Institute of Management Research and Development, Shirpur.It is with great pleasure and excitement that I extend a warm welcome to all of our students, faculty, staff, parents, and visitors to our institute website.
I.M.R.D. is more than just an educational institution; it's a place of transformation and growth, where individuals come to discover their full potential, and to be inspired to make a positive impact on the world. Our mission is clear, and it sets the tone for everything we do at this institution. We aspire to be an outstanding provider of high-quality Management and IT education.
Our goal is to create proactive and excellent professionals who will not only excel in their careers but also contribute positively to society. At the heart of our mission is the commitment to imparting quality education. We firmly believe that education is not just about acquiring knowledge but also about the transformation of individuals. We aim to mold our students into responsible citizens by elevating their level of education and social status. Our institute is not merely a place of learning; it is a hub for value-based education. We are dedicated to igniting young minds, to inspire creativity, and to bring out the best in every student. In an ever-changing global landscape, our commitment extends to making our students competent in the global scenario. We aim to equip them with the skills and knowledge necessary to thrive in a rapidly evolving world. Our goal is to nurture self-reliant individuals who can confidently navigate the challenges and opportunities that the world presents.
As the Director of I.M.R.D., I am deeply committed to ensuring that we offer the highest quality of education, a broad range of academic programs, and an array of co-curricular activities that enable students to explore their interests and passions. We believe in equipping our students not only with the knowledge and skills required in their chosen fields but also with the essential life skills of critical thinking, leadership, and adaptability.
Our faculty members are not just educators; they are mentors, guiding students through their educational journey, encouraging them to think creatively and critically, and preparing them to meet the challenges of a rapidly changing world.
At I.M.R.D., we value diversity, inclusivity, and a spirit of community. Our students come from all walks of life, and this diversity enriches our campus culture, creating a dynamic and vibrant learning environment. We encourage our students to engage in community service, to embrace cultural differences, and to develop a sense of global citizenship.
As we navigate through the ever-evolving landscape of higher education, I am proud to share with you the exciting initiatives we have undertaken to implement the National Education Policy (NEP) 2020. The NEP 2020 represents a transformative vision for our education system, and we are committed to not just meeting its mandates but also exceeding its expectations.
One of the key highlights of the NEP 2020 is the need for a more flexible and interdisciplinary curriculum. Our faculty members have been actively engaged in redesigning courses to include more interdisciplinary content, skill-based learning, and project-based assessments. This overhaul will ensure that our graduates are not only academically proficient but also equipped with the practical skills needed in today's rapidly changing job market.
The NEP 2020 places a strong emphasis on research and innovation, and we are taking this as an opportunity to enhance our research capabilities. We have established partnerships with leading research institutions, and created dedicated research centers to promote interdisciplinary collaboration.
In alignment with the NEP's commitment to inclusivity and equity, we are working tirelessly to create an environment that is welcoming to all. We are determined to make our campus a space where everyone feels valued and has the opportunity to succeed.
The NEP 2020 recognizes the importance of technology in education. We are actively embracing this by investing in a robust digital infrastructure.
These initiatives are just a glimpse of our ongoing efforts to embrace the National Education Policy 2020. We are confident that, with the dedication and support of our entire institute community, we will not only meet but exceed the NEP's vision for the future of education in our country.
I invite all of you to be an active part of this transformative journey. Your ideas, feedback, and commitment are essential in making these initiatives successful. Together, we can create an educational institution that not only adapts to change but also leads the way in shaping the future of education.
Thank you for your unwavering support and dedication to our shared mission.
Warm regards...